5 foods that are known as aphrodisiacs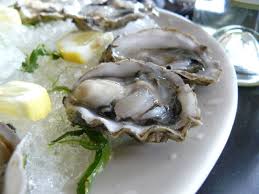 Even Egyptian papyrus mention drinks and foods, which give more sexual energy, enhances sexual performance, etc. Science neither ever fully demonstrated, nor it denied the effect of afrodisiacs. It is believed that these foods can act both as a placebo, and also have an effect on hormones. Let's look at the top five food aphrodisiacs.
1. Pomegranate. This is a passion fruit, whose magical power was used by the ancient Greek goddess Aphrodite. They contain piperidine, the substances that improve male potency.
2. Oysters. They have a lot of zinc, that stimulates production of testosterone.
3. Chili. Add this spice to your life to stimulate the production of endorphins.
4. Dark chocolate. Dark chocolate contains anadamido, a substance which has a positive effect on your mood, as well as phenylethylamine which stimulates the release of dopamine.
5. Honey. Honey is rich in boron, which is used for estrogen synthesis and use. Research shows that the same material increases testosterone.