6 ideas for healthy breakfast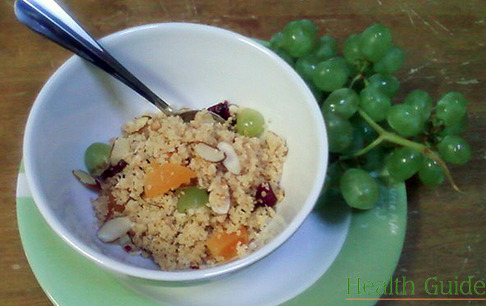 Nutritionists constantly emphasize that breakfast is the most important meal of the day. However, you have to eat products that contain lots of protein, carbohydrates, vitamins and minerals. Here are 6 ideas for those who want to heave healthy and tasty breakfast:
1. Add some honey, hazelnuts, cashew nuts and dried fruits to your favorite porridge. You will get energy for the entire day.
2. If you like oatmeal, add some coconut flakes, pumpkin seeds of sunflower seeds to it. You will get a completely different taste.
3. Prepare some almond cocktail. Put some almonds into a bowl of water and keep them over night. Blend everything in the morning with a blender, filter the liquid that you will get and blend it once again with few dates, half teaspoon of cinnamon and few fresh mint leaves. This is a filling cocktail that is good for your stomach and contains lots of vitamins.
4. And apple with few pieces of cheese and some walnuts is a great smack for people in a rush.
5. Prepare a banana shake to start a successful day. Crush two bananas and blend them with some peanuts, a glass of natural yogurt and some cinnamon.
6. Prepare fresh fruits salad from an apple, a banana, an orange, a pear, some berries, natural yogurt, cashew nuts and sunflower seeds. It's tasty and so healthy.