Why we should eat sushi more often?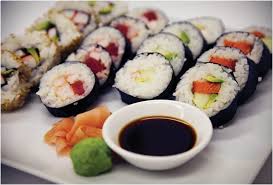 A balanced diet is a key to healthy living. Sushi is a dish that a lot of people who care about their body and health eat. Of course, not all sushi dishes are healthy, but knowing how to combine the ingredients, you can give your body a lot of useful substances.
1. Take care of your heart
Sushi is an effective food to ensure heart health. Rolls with brown rice provide fiber, which helps to control cholesterol. Avocado, cucumber and eel provide the body with the necessary omega-3 fatty acids. Avoid soy sauce, even though it is very tasty.
2. Minerals
You do not need much of minerals, but they are vitally important and can greatly improve health. Seaweed is an excellent source of minerals since it contains iodine and magnesium. In this regard, sushi can be a food that improves mood, heart rate and keeps the digestive tract.
3. Sushi contains a lot of antioxidants
Sushi always contains vegetable, which are rich in antioxidants that fight free radicals. In addition, antioxidants help fight diseases such as cancer or heart diseases. While this does not mean that sushi should be eaten every day, do not forget to include it to your weekly diet.
4. Sushi has plenty of protein
Protein is necessary for muscle functions. They help rebuild muscles after intense exercising. You can also choose tuna if you want large quantities of protein.