How to avoid overeating during the Christmas?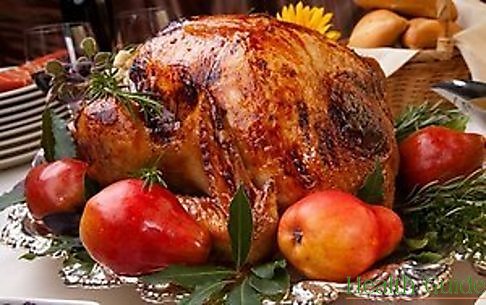 Christmas is a great challenge for our health because its dinner can't be imagined without roasted turkey or goose, pork ham and various cakes. Most of the people can't successfully fight against temptation for these truly delicious foods and finally find themselves overeaten after the holidays. That leads to headaches, nausea, heartburn or stomach blow and stress for the liver. Trying to save the stomach, we simply grab some medicine that helps against indigestion. However, to avoid ruining the holidays we should simply remember some of the tips experts recommend following during the Christmas.
In most of the cases, people overeat because they eat all the foods in large quantities, not just because they simply try some bites of everything. Nutritionists recommend remembering that moderation is the best friend in this case because huge amount of food begins to push the stomach area and initiates its pain.
In addition, Christmas dinner includes unusual foods for our stomach, such as mushrooms or herring, that should be eat with moderation. Don't forget your breakfast because it helps to avoid overeating.


Digestion is disrupted not only by the rich and fatty foods, but sweet foods, such as cakes or sweets, and alcohol. Sweets are usually recommended to be eaten in the morning hours, so try to continue this tradition during the Christmas. In addition, though nutritionists do not support the use of alcohol, but if people can't imagine their holidays without it, they should remember to use it also in moderation.