5 tasty and healthy drinks to make your day better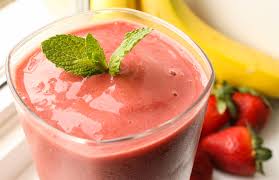 If you want to get all necessary vitamins and trace elements, you don't have to start taking supplements. You can actually use a few delicious products and make an even more delicious drink. Here are some great options!
 
Spinach + bananas + lemon
A small bundle of spinach is enough to get daily vitamins and nutrients. Take 350 ml of water, add 3 bananas, a bundle of spinach leaves, half a lemon or lime juice and blend everything.
Blueberries + bananas + lemon + celery
 
Blueberries are very tasty and useful berries. They strengthen your immune system and positively affect vision. Smash 2 bananas, 3 tablespoons of blueberries, 1/3 of lemon juice, 2-3 stalks of celery, and 1 cup of water.
Celery + spinach + lime + banana
Celery is a product that helps burn fat and provides lots of vitamins and trace elements. Juice 2 stalks of celery, 1 cup spinach leaves, mix it with 1 cup of water, half of a lime juice and 1 smashed banana. This is a great multivitamin cocktail.
Spinach + banana + apple + lemon
Bananas and spinach are a fun and useful combination. Bananas improve you mood, reduce fatigue and supplies energy. Blend 1 cup of spinach leaves, 2 bananas, 1 apple, 1 cup water and half of a lemon juice.
 
Cucumber + lettuce + lemon + honey
Cucumber helps your body remove toxins and slags and lettuce leaves are a good source of vitamin E. Blend a bundle of lettuce leaves, 1 medium cucumber, juice half of a lemon, add a glass of water and a teaspoon of honey.