7 reasons to eat watermelons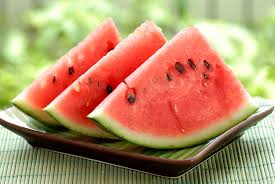 1. Watermelon is a great source of vitamins. It is rich in vitamins A, C and B6. A medium slice of watermelon contains 25 percent of vitamin C daily intake.
2. Watermelon helps to cope with stress. And that is not just because we produce pleasure hormones when we eat sweet and juicy fruits. Watermelons contain betacaroten (vitamin A), which is necessary for those suffering from serious psycho-emotional state. B group vitamins do not allow to get chronic fatigue, they improve overall body tone and increase physical activity.
3. Watermelon reduces the risk of cancer. It contains a large amount of lycopen, which protects from breast, prostate, colon, stomach and lung cancer. Lycopene also strengthens immune system, promotes cell regeneration and protects against heart diseases.
4. Watermelon improves digestion because it has a lot of fiber. Fiber is necessary for good digestion, prevention of cancer and healthy skin.
5. Watermelon removes toxins from the body. Watermelon promotes production of urine and helps the body to eliminate excess fluids. At the same time it eliminates toxins caused by air pollution, improper food (preservatives, refined products), smoking, insomnia, fatigue, nerves, drugs, hormones, and so on.
6. Watermelon is a great aphrodisiac. Watermelons are rich in citrulline, an amino acid and antioxidant. Citrulline relaxes blood vessels and increases sexual desire and endurance.
7. Watermelon helps to control weight. Watermelons have very low calories. You can lose 3 to 6 pounds per week if you follow watermelon mono diet. Watermelons are rich in manganese, which helps to burn fat faster. Manganese also suppresses the desire to eat sweets, improves mood and provides energy.