8 benefits of dark chocolate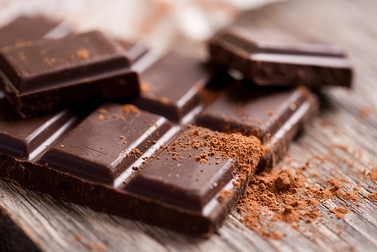 Chocolate is a favorite treat of many people. However, you can use it in a different way. Here are some really interesting and useful tips how to use chocolate.
1. Prophylactic measure against depression. If you feel tired, irritated and you suffer from a bad mood, eat a piece of chocolate or drink a cup of hot chocolate. It stimulates production of so-called "happiness hormone", improves mood and tones our body. For the best results, choose dark chocolate.
2. Prevention against dental plaque. Chocolate contains antiseptic qualities and prevents formation of dental plaque. A piece of chocolate after a meal is not necessarily useless calories, it is also great for your teeth.
3. Cosmetics. Chocolate contains substances that nourish and tone your skin. It also helps to regenerate skin cells. For this reason, chocolate is often used for hair, face and body care.
4. Heart attack and stroke prevention. Regular use of chocolate reduces thrombus formation.
5. Fighting cellulite. Chocolate can also be used to make body wraps. Mix 100-200 g of cocoa powder with 500 ml of hot water, cool it to 35 degrees and apply in problem areas. Wrap a film and a cover yourself with a blanket. After 15 minutes, rinse it with warm water. Repeat 2-3 times a week.
6. Dieting. Many nutritionists call dark chocolate a dietary treat. It is low in sugar and contains lots of cocoa, which stimulates the memory and provides a lot of energy. 10-15 grams of chocolate per day is not going to destroy even the strictest diet.
7. Baths. Add 100-200 g of natural cocoa powder into some hot water, stir well and pour into the bath. This treatment will dramatically improve your skin tone.
8. Reduction of arterial blood pressure. Dark chocolate lowers blood pressure. However, it is a prevention rather than treatment.