The benefits of cocoa butter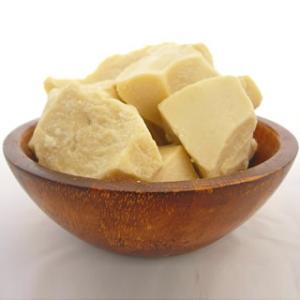 Cocoa butter is suitable not just to make sweets. It contains lots of useful components, such as linolenic, oleic and stearic acids which can be found in many therapeutic products. It is also irreplaceable in cosmetics because of healing properties of caffeine, methylxanthines and  tannins.
Cocoa butter is very rich in minerals – calcium, potassium, magnesium, zinc, manganese, copper and iron. All of them are vital trace elements and they are easily absorbed. Another good news is that cocoa butter contains tryptophan, an amino acid that is involved into synthesis of serotonin or happiness hormone. So it is not only food for skin but also for the brain.
Cocoa butter is rich in antioxidants which fight against a wide range of free radicals that destroy our skin cells and promote premature aging. One of the strongest antioxidants is vitamin E. one of the most appreciated property of cocoa butter is that it helps to heal scars, stretch marks and gives more elasticity for the skin.
Even professionals use cocoa butter for skin rejuvenating treatments. It will help if you have problems with dry skin. Cocoa butter is also irreplaceable for its anti-allergic and regenerative properties. Additionally, it is used to treat various diseases, like respiratory tract infections, bronchitis, influenza and so on.