The benefits of rooibos tea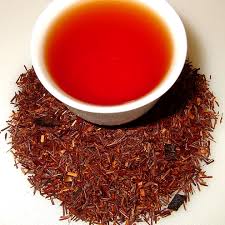 Red rooibos tea is a delicious and aromatic beverage that contains a lot of useful trace elements and vitamins. It is very popular in South Africa, however, it is gaining its popularity all over the world. It has a fruity taste and it is known for many useful properties. Here are some useful facts about rooibos tea:
Local African tribes uses this tea not only as a refreshing drink, but also as a natural dye;
Rooibos tea contains no caffeine and tannins, so it can be used at any time and in unlimited quantities;
Rooibos tea contains vitamins A, E, and P, as well as calcium, fluoride, manganese, copper, potassium, zinc, iron and magnesium;
This tea particularly effective to help fight high blood pressure, it is useful to treat diabetes and atherosclerosis;
Rooibos tea is used to treat allergies and various skin diseases;
It helps with insomnia;
It improves digestion;
Sometimes this tea is used to relieve cough and get rid of intestinal parasites;
Strong rooibos tea is perfect and completely natural bactericide, which can be used for compresses (for example, to treat dermatitis, eczema, skin itching and irritation);
Rooibos tea is used in cosmetology. It refreshes the skin, so you can add it to your baths;
Rooibos tea is suitable for sunburns;
Rooibos tea compresses is an effective products for tired eyes, to reduce swelling and inflammation.