New trend – Dukan's diet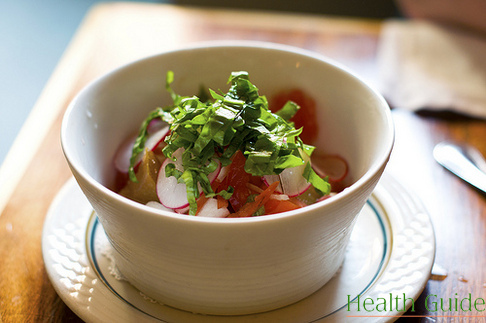 If a beautiful girl from Paris claims that her figure was given by nature, don't believe her – French women never reveal their own beauty secrets. Apparently, she follows the new Dukan's diet which has become a greatly fashionable thing in France. This diet was invented by Pierre Dukan – one of the most famous and authoritative French nutritionists, who has been working in this field for almost thirty years and has thousands of celebrity clients that adore him. His glorious life time started in May 2000, when one of his clients announced on the Internet about the stunning Dukan's diet results. Since then, almost every french knows who Pierre Dukan is and even such Hollywood stars as Penelope Cruz and Jennifer Lopez have started to follow his recommendations.
The basic principle of Dukan's diet is food based on proteins with vegetables, and strictly limited quantity of carbohydrates. Just from the first sight you may see these rules very similar to Atkins diet. However, if you look closely you will see that the main difference is that Dukan, unlike Robert Atkinson, removes from menus all fatty products: lard, butter, olive oil, mayonnaise, sour cream, salted or smoked pork and even avocados. Fortunately, nutritionist allows eating lots of vegetables with meat but also requires that they wouldn't be very starchy, like potatoes, beans, corn and etc.
To drop the overweight and not get it back, doctor offers three phases of 46 days. The first phase mostly takes two days and it is called "Attack" because it requires eating only proteins and nothing else. The second phase, "Cruise", with the third phase will prepare body for a new weight and finally you will have to eat according to "Attack" phase recommendations only once in a week.
Examples of Dukan's diet menu:

BREAKFAST
Phase I:
coffee or tea (without sugar);
3 egg omelette with skimmed milk or lightly salted salmon with yogurt.
Phase II:
coffee or tea (without sugar);
lean cottage cheese, fried eggs with tomatoes, Bulgarian pepper with onion and herbs, courgette and carrot pancakes or boiled egg without the shell.
LUNCH
Phase I:
beef steak or grilled sea bass;
grilled chicken or turkey, served with garlic, rosemary and lemon;
boiled shrimp with hot pepper
fish sashimi.
Phase II:
tuna salad with beans, capers, boiled eggs, green salad leaves and dressing (lemon juice, yogurt and black pepper) or Caesar salad with chicken (without the bread crumbs and Parmesan cheese).
DINNER
Phase I:
low-fat yoghurt;
salmon steak, roasted mussels, oysters or crabs or grilled lamb.
Phase II:
braised cabbage with cumin and dill;
boiled beef tongue with horseradish or Wasabi
grilled tomatoes and eggplant or duck breast with cucumber.
More information: www.dukandiet.co.uk