Detoxifying soup diet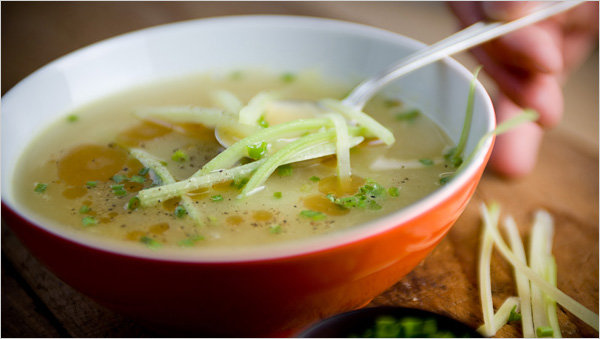 Celery is an incredibly useful, low-calorie product. Therefore, celery diet is very effective and it is not harmful to your health, because celery is full of vitamins, and it helps cleanse your body from toxins. Celery diet should last for 14 days, and it is based on celery soup. Within 2 weeks it is possible to get rid of 5-7 kilos.
So first you have to prepare celery soup. For that you will need: 3 liters of water; a bundle of celery stalks; small cabbage; 6 medium-size onions; 2 tomatoes; 1 pepper; spices. Preparation: finely chop all the vegetables and cook for 15 minutes.
Diet
Day 1. Celery soup and any fruits except bananas.
Day 2. Soup and vegetables.
Day 3. Soup and vegetables, one boiled potato (for dinner).
Day 4. Soup, 1 liter of butter milk, 3 bananas.
Day 5. Soup, 6 tomatoes, cooked beef, chicken or lean fish (700 grams), it is necessary to drink at least 2 liters of water too.
Day 6. Soup, vegetables and 350 grams of cooked meat or fish.
Day 7. Soup, vegetables and brown rice.
The second week you have to follow the same diet. If you are not ready to follow such a strict diet for 2 weeks, you can just try having one day a week eating celery soup. It is low in calories, so you can eat as much as you want of it.
Benefits. Celery brings benefits for health, beauty and energy. It is suitable to prevent a variety of diseases, and it perfectly helps to lose weight. It has only 18 calories, and it is rich in nutritive substances, zinc, potassium, calcium, phosphorus, iron, magnesium, vitamins B, PP, E, A and essential oils.
Health. Celery helps to regulate blood pressure, strengthen the immune system, and prevent infectious diseases. It also helps to get rid of unnecessary kilograms, normalizes metabolism, and promotes urination.