Tomato soup diet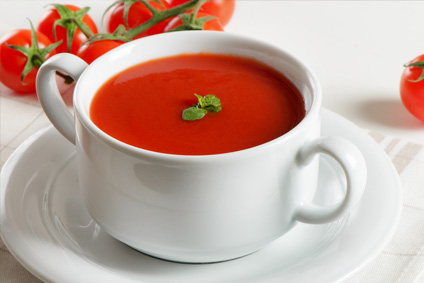 This diet is currently very popular in the United States. It is often recommended by cardiologists, surgeons, in order to rapidly reduce body weight for overweight people. Usually doctors recommend it before various surgeries.
Benefits of tomato soup diet
This diet is good if you want to quickly burn body fat. Your body will receive less calories than it actually burns. Also, this diet helps to cleanse your body.
What you cannot eat if you are following this diet?
Do not consume any alcohol, because it interferes with burning body fat.
How to make a tomato soup?
The basis of this diet is a soup that you will have to eat every day. You can eat any amount of it.
Take six onions, some fresh tomatoes, a medium-sized cabbage, green sweet pepper, a few tablespoons of pea soup and a handful of fresh celery stems. Chop the vegetables into small pieces, add water and season with a little salt and your favorite spices. Cook for about 10 minutes, then reduce heat, cover and cook until vegetables are soft.
What results can you expect?
If you follow a diet strictly, you can lose 4-8 pounds a week. Please note that you cannot add any other products. If you lose 7 or more pounds in one week, you should make a break for a few days and then go back to a diet if you still want to lose weight. You can drink water and unsweetened green tea.