Water aerobics – easy and safe way to lose weight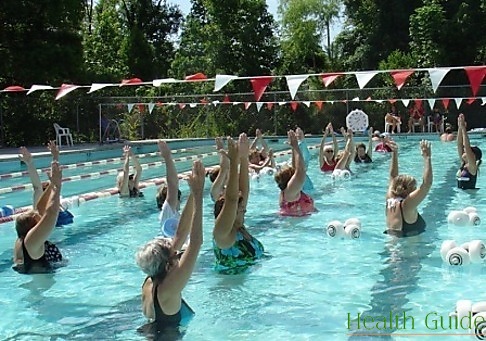 Water aerobics is an excellent way to improve your body without stress, regardless your weight and fitness level. Water creates resistance to your movements, so you are having a very intensive training without even feeling it.
A few facts about water aerobics:
• One hour of water aerobics can burn 450-800 calories.
• Combination of water aerobics and a healthy diet can help you to get rid of your extra kilos quickly and easily.
• Water reduces body weight so you shouldn't worry about your joints.
• Overweighed people can do more exercises in water than standing on the ground.
First workout in water is the most difficult. Avoid sudden movements, do not jump in water to intensively. Here are some useful tips which are worth to remember:
• Have a bottle of water with you. Believe it or not, you will feel thirsty soon.
• Pay attention of what equipment other people are choosing. Repeat what they do, otherwise you will have to catch up the group as they will not wait.
• Do not expect to get immediately in the same shape as other people who do water aerobics for long. All people have different physical condition, so some get the results very quickly, while the others need to wait longer. Just keep working out according to your capabilities.
• If you find something unclear, don't be afraid to ask your instructor. He or she will definitely show how to do every exercise correctly and safely.