Buckwheat diet to clean your body and lose weight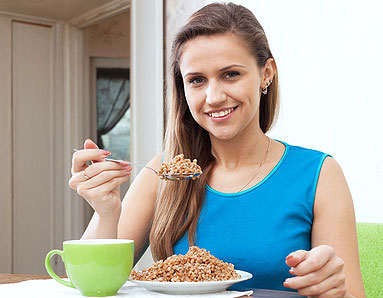 Most women want to lose weight without harming their body and overall well-being. Therefore, fasting is not suitable. The best choice is selecting certain products. Eating a product that you like and losing weight is just amazing.
Buckwheat diet helps to achieve good results and lose 5 to 8 pounds a week. In addition, buckwheat cleanses the body, and you can follow this diet for 1 to 2 weeks. Buckwheat diet normalizes weight, so if you're in a pretty good shape, but you still want to become thinner, then this diet will not work. Meanwhile, if you gained extra weight during the holidays or after childbirth, it will work just great.
What is so special about this diet? Buckwheat ensures satiety (so you never feel hungry) and cleanses the body at the same time. However, if you do not like buckwheat, this diet is not for you, because you will not feel emotionally motivated. There are two ways to follow this diet.
Option I
You will need a cup of buckwheat for a day. In the evening pour 2 glasses of boiling water on your buckwheat and leave it overnight to swell. This porridge can be eaten all day, any time. Make sure you do not to exceed the amount of buckwheat.
you can also eat some low-fat natural yogurt if you want, drink coffee, green and black tea, but make sure you do not add any sugar. If you see that buckwheat day is not enough, you can increase up to 2 serving glasses. Eat an apple if you feel very hungry, but the diet will work better if you do not have any fruit. After 6 pm, you can only have a glass of low-fat yogurt.
Option II
In the evening cook 1-1.5 cup of buckwheat. Do not use salt or other spices. In the morning, half an hour before breakfast, drink a glass of hot water. Then after 30 minutes you can eat a third of buckwheat and a cup pg low-fat natural yogurt. It is also possible to drink green tea, pumpkin or carrot juice.
For lunch, eat another part of buckwheat, and have the rest of the porridge as your dinner. You can drink still water or fruit juice in between meals. Do not drink more than 2 liters of fluids per day. If you feel hungry, increase the amount of buckwheat up to 2 cups.