9 amazing uses of baking soda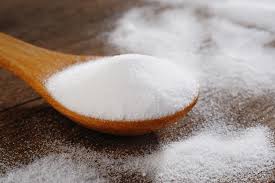 Baking soda is a natural substance, a mixture of soda carbonate, soda ash and sodium bicarbonate. It has a wide range of use: from cooking, to personal hygiene or beauty. Here are 10 ways to use baking soda to your beauty:
Relaxing bath. Add 0.5 cup of soda to a hot bath. Your skin will be fresh and smooth after it.
Foot care. Add 3 teaspoons of baking soda to a bowl with water and soak your feet in it for 10-20 min. Then make a paste with some soda powder and water, and gently massage it into your feet. Your feet will be really happy!
Skin scrub. Make a paste of 3 parts of baking soda and one part of water. Gently massage it into the skin. Rinse with warm water.
Hair care. If you want your hair to be beautiful, shiny and easier to control, add a teaspoon of baking soda into your shampoo when you wash your hair. This will remove dust and any residues from the product buildup.
Teeth whitening. Take some soda on your brush and brush your teeth as usual. Rinse your mouth with water when you finish.
Soda bath oil. Mix 4 teaspoons of baking soda with 200 grams of honey, 0.5 liters of milk, 16 teaspoons of sea salt and 120 ml of baby oil. Pout the paste into a hot bath and enjoy.
Rough skin care. Massage a paste of baking soda and water into your elbows or other rough parts of your skin. Rinse with warm water.
Nail care. If you want to have soft cuticles and strong nails, gently rub some baking soda into your nails.
Dry shampoo. Late and do not have time to wash your hair? Mix 1 part of baking soda, 1 part of baby talc and 3 drops of essential oil. Apply a little bit of this mixture into the roots, leave for couple of minute to soak up all grease from your hair and comb it well. This "dry shampoo" perfectly absorbs grease and refreshes hair.